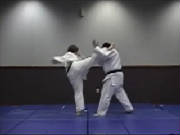 Jujitsu Distant Learning Course with material up to and including 2nd Degree Black
Jujitsu is a traditional Japanese style of fighting. The system covers single and multiple attackers utilizing more gross motor skills actions. This is what separates it from Aiki Jujitsu. Grappling, ground fighting, weapons and meditation and breathing techniques are taught as part of the system. The package includes testing handbook, DVDs and free consultations by phone, in person, mail or email.

Click on the Buy Now Button Below to Purchase this course for the price of $329.99 (includes test fees).
Jujitsu Distant learning Course White Belt to 2nd Degree Black Belt.

For money order or cashier's check purchase, please make checks out to G.M. Frank Williams and mail to 112 Nugent St. F Bowling Green, Ky 42101
Jujitsu 3rd Degree Black Belt Material $79.95 No Test Fees Included
Jujitsu 4th Degree Black Belt Material $89.95 No Test Fees Included.